There was no Roundabout in July, September or October 2018 as Carousel was unwell.
JUNE 2018
Welcome on Board to Selsdon new swathe of ward councillors. Hope to see you around!
As announced elsewhere in this issue (see the What's On section), the Selsdon Primary School Wartime Reunion is again planned to take place in October. This annual event grows in popularity, enabling the renewal of long-standing friendships of more than seventy years.
Organiser Jill Maynard (née Seelig) says that following the successful transfer to the Farleigh Golf Club last year, the benefit of a designated function room was much appreciated. Jill has identified some various improvements this year including wine to be served at each table. Prior ordering of luncheon requirements will ensure efficient catering.
It is noted that the event is one week later this year being the second Wednesday in October instead of the first. It is important to book places through Jill in advance as some folk were disappointed last year as they turned up on spec and there was no room at the inn!
Is Anyone There? Modern life proceeds apace. Medical advances ensure that many of us are living longer. Communication has become instantaneous at a rate unbelievable a few years ago. But there is a price to be paid for this progress - the expectation on most of us is to respond immediately to shoals of email or text messages. Computers are marvellous until they develop glitches and have hiccups. Automated telephone help-lines can be highly frustrating being held in a queue listening to intrusive music whilst being reassured every few minutes that 'Your call is important to us' When at last we connect to the system, we undergo and series of 'Options' which often lead to yet more confusion.
Have you tried recently to contact Croydon Council for any reason? Until fairly recently, it was possible to speak to a friendly voice, following which one's complaint or enquiry would be speedily dealt with. No longer. The system now seems to be staffed by unfeeling robots with continual advice to post your query on-line. But what about those who do not possess a computer, in particular the elderly? It can be a joy to use a system which is answered quickly by a real, live and caring person.
Only recently have we learnt that modern life is contaminating our maritime wildlife with discarded oceans of plastic waste. On a lighter note, it is reported that there is a resurgence in home delivery of milk whereby the product is left in glass bottles! Empty bottles are collected by the milkman to be cleaned and sterilised for further use many times over.
This fact prompts my ancient friend, Sellis, to recall his long distant childhood. To supplement his meagre pocket-money, he and his friends would scour the neighbourhood reclaiming empty glass bottles. Many of these would generate a penny or two refund from a retailer on each bottle when handed in
Perhaps we should re-generate that practice? It may encourage an entrepreneurial spirit.
Plaudits are overdue. Throughout the past dreary winter, we have become used to negative news reports. Normal services have been disrupted because of weather conditions; trains cancelled not because of bad weather but in case it might snow. Points may become frozen.
To end on a more positive note, some local services have continued to operate with quiet efficiency. In the most trying conditions, my milk delivery man has appeared before 6.00 a.m. three times weekly. My newsagent continued his daily service with the aid of his stoical delivery paper boys and girls.
Well done and thanks to all!
MAY 2018
In the April Gazette, I predicted that Springtime would be a little late this year. My forecast turned out to be quite, quite wrong. Following the dreariest Easter holiday many of us could recall, suddenly a blazing yellow orb appeared in the skies above. Overnight, it seemed, winter had given way to a full summer. Springtime had disappeared without trace.
A month before, muffled up to my eyebrows, my quill pen clutched with a mitten-clad hand, I scratched over the frozen parchment. Now, an electric fan cools my fevered brow as my reddened sunburnt arms tingle with heat rash. The sound of lawn mowers pervades everywhere once more.
This unpredictable variety, Sellis maintains, is what makes the British climate so interesting.
By the time you read this, the local elections will have taken place. As our intrepid three retiring councillors ride into the sunset with our grateful thanks, the previous Selsdon & Ballards ward will have changed significantly. Widespread amalgamation with adjoining wards may be the biggest change for us residents since the amalgamation of the Coulsdon & Purley Urban District Council with Croydon in 1964. It will be interesting to see how the new alignment works in practice.
Passing recently the sad blot on the landscape of the erstwhile Selsdon Garage, I noticed that Mother Nature is taking over the boarded-up site. Shrubbery is beginning to grow over the site of this once attractive art deco building. A sole workman was cutting back the green growth in a desultory way. It is all very sad.
In common with many others, I was saddened to learn of the recent death of Derek Sharman. He was a popular and avid attender of the Selsdon Primary School Wartime Reunion held each October which presents a great opportunity to renew old friendships.
The piece in the February Gazette on his trip to France with six friends in an old London taxi was delightful. The charming photo of the group (see right) was evocative of that time. The fifties often have a bad press. Although there were international conflicts such as Suez and the Korean war, it was a good time to be a teenager. The stringencies of wartime food rationing had ceased and driving on the road was a pleasure as traffic congestion was minimal. It is interesting to note that their taxi trip predated the popular Cliff Richard film
Summer Holiday
by a decade. Yes – they were good times for youthful pleasure. There was also a movement called rock and roll which had started in the USA. Some hip-waggling herbert called Elvis something had also appeared on the scene.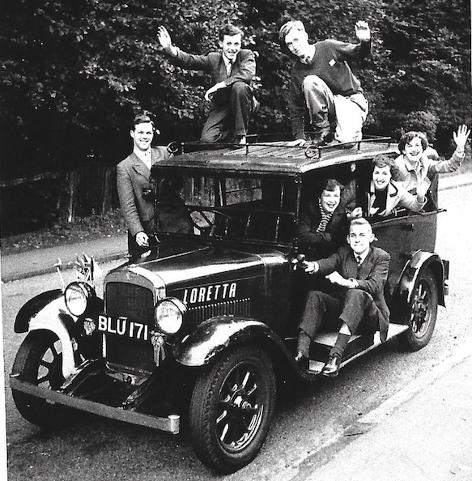 And finally… the recent introduction by Croydon Council of a 20 mph speed limit has been controversial, to say the least. Many drivers would like the opportunity to attain this speed when driving through Selsdon most times. Apart from the cost and the practical question of enforcement, there are some other questions. I understand that the far end of Kingswood Way has also been made subject to this restriction.
Surely this is an unadopted road? Does the Council have a legal right to impose a speed limit here? Can someone please enlighten us? Answers will be welcome on the usual postcard.
APRIL 2018
Selsdon's Shopping Parade is looking increasingly sad. Recent closures by long-established and highly regarded retail outlets and national banks have adversely affected the normal customer footfall. Hearsay suggests that at least one other long established shop may also depart soon.
There is little doubt that the nature of retailing is changing, with a large increase in online shopping. Even giant shopping centres such as Westfield have a large share of restaurants and cinemas. It would seem that we now await more fast-food outlets and take-aways, interspersed with charity shops, welcome as they are. Retailing premises have suffered soaring rentals and business rates. One well-respected Selsdon store owner retired early because of these pressures. He believed that business rates should be based upon turnover of the business rather than on the rateable value of the premises.
The recent decision by Croydon Council's planning committee to refuse planning permission for development of the Selsdon Garage site ensures a continued blot on Selsdon's landscape.
I have in my possession a photograph of the Selsdon high street taken in the high summer of 1955.This shows a large variety of shops and stores; butchers, bakers (there were no candlestick makers), greengrocers, newsagents, ironmongers, a dairy, grocery and general stores. We cannot live on nostalgia, of course. But – if you don't want to lose them, use them!
Springtime is a little late this year. You may have noticed. After many years of successive mild winters, the two separate weeks of Siberian chill in late February and March have come as a shock. This reaction makes my friend, Sellis, even more churlish than usual.
Although in the South-East we got off relatively lightly, he maintains that we have forgotten how to cope with a few heavy snow showers and very chilly winds. Being an old git, he cites the two month spells in 1947 and '62/3 as really prolonged bitter periods. The dramatic expositions of the weather forecasters annoy Sellis. "The Beast from the East they called it!" he moans, "Who thought that up that corny adage?" He also blew a raspberry at the presenter who urged him to wrap up warm. Sellis says he wants to know about the weather prospect; not to receive nannyish advice. His rant continued to allege that it was bad grammar anyway, as warm should have the suffix 'ly'. I tell him not to be so pedantic.
He is not deterred and demands to know why 100 trains are cancelled before it has snowed? And why 10cms of snow grounds all aircraft? He maintains that in his young day, there were no such things as "leaves on the line"! I exit quietly to let Sellis rage on his own and sincerely hope that Spring will surely appear soon.
And Finally... I sadly note the alleged demise of the local hedgehog, (q.v. Ian Leggatt's article on the London Wildlife Trust imminent survey as reported in the March Gazette). Some years ago, we always welcomed local families of these shy but friendly animals. We were sometimes awakened in warm summer nights by them snuffling water from puddles outside our bedroom window. Building development has, alas, invaded their habitat. Close boarded fences do not help either as one needs to dig a hole or two so to allow them easy access to gardens. Here's to the survival of the Tiggywinkles.
Still on wildlife, a special thanks to resident Linda Lee for her splendid portrayal of Brer Fox on the front cover of the March Gazette (see right),
And Not Least.. further to Sellis's sinful recollection of his time as a chorister, Eric Shaw has been in touch. He recalls his own time with his church choir in Holland Park. To pass the time during a lengthy sermon, his chorister friends used to smuggle in snails. These were 'raced' along the top of the choir stalls. I assume that the length of the race would be determined by the sermon!! Choirboys being little angels? Never believe it!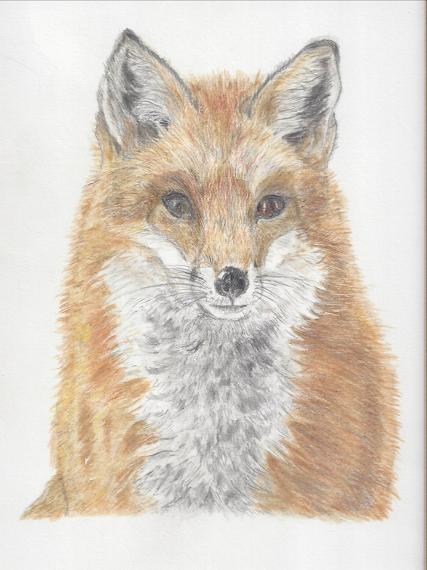 MARCH 2018
Changes Are Afoot. Concurrent with the enlargement and division of the Selsdon Ward we will be welcoming new councillors in the local May election. As indicated in Dudley Mead's farewell article in the February Gazette, our three stalwart representatives are not standing for re-election.
Dudley Mead attended Whitgift School and after qualifying as an accountant, became a leading partner in his Croydon accountancy firm. Dudley's tenure as a Selsdon councillor for thirty-eight years must be the longest on record by a long chalk. He was elected at a by-election in 1980 and has always had a high profile on Croydon Council. Feeling that it was important to be close to his constituency, he moved to Selsdon. His interest in the impressive amount of voluntary work in Croydon was stimulated by his term as Mayor in 1989/90. Being involved with one of these organisations at that time, I recall his visit to the Croydon Voluntary Action HQ. His mayoral experience was later consolidated when his wife, Margaret, having been elected as a councillor for Heathfield, was elected as Mayor for 2009/10 with Dudley as her consort. As he is a professional bean-counter, some of we lay people welcomed his ability to dispel the mysteries of balance sheets whilst the rest of us tried to confirm whether 2 + 2 really came to 5.
As indicated in his article, Dudley was an ardent supporter behind the scenes of the Fairfield Halls. He reflects the concerns of many about the full-scale closure pf the Halls for refurbishment and the current uncertainty about its re-opening. An additional little-known fact is that Dudley was also a prime mover of the popular annual Country Show held each September in Selsdon Wood.
Our other retiree is Phil Thomas. He still retains the lilt of the South Wales valleys, his birthplace being Tredegar, home also to Nye Bevan and Ray Reardon, the snooker player, among others. Phil was first elected as a Councillor for Purley twenty years ago. When Selsdon incorporated Ballards and increased its council representation by one, Phil took the opportunity to stand in the ward where he lived and he has represented Selsdon for the past sixteen years.
Phil is a schoolteacher by profession but managed Wandsworth Council Youth Services for fourteen years. He was in charge of Highways for Croydon and is able to reflect on many achievements in that role. These include the introduction of the fortnightly staggered waste collections, the collection of garden and food waste and the Borough-wide replacement of street lights. I think it is fair to say that Phil is by nature an action man who likes to get his hands dirty. This was evidenced if he was presented with a complaint against any of the Council services. The response was usually reactive and quick.
Which brings us to the last of our triumvirate, Sara Bashford. As reported in the Gazette, Sara has had to relinquish her role as councillor due to her appointment as a civil servant in Whitehall. (Sellis interjects that Sara could not be un-civil to anybody.) She has retained, however, her presence on the SRA Executive Committee. Elected some twelve years ago, Sara has a quietly efficient and methodical approach to handling a high workload. She has an ability to assimilate complex facts and translate them into a simple coherence.
Reflecting on the attributes of our three representatives, one fact is apparent - they all have completely different attributes and styles. To my mind, this has proved to be a benefit as collectively they have operated as an effective team when responding to their constituents' problems or complaints.
So, the time has come for our Three Musketeers to ride into the sunset with our best wishes; for Dudley and Margaret, a contented retirement; for Phil from the Welsh valleys, a successful search for new pastures and for Sara, being a very civil servant in the corridors of power.
May I, on behalf of the residents of Selsdon, convey a very big 'Thank You' to our Three Musketeers (One for all – All for one!)
FEBRUARY 2018
Weather or not? To summarise Selsdon's weather and climate throughout 2017, for the fourth consecutive year there were no sustained harsh winter conditions. This was apart from two weeks in mid-January when the coldest day was on the 22nd which registered minus 4.6C (23.4F). Some 20mm of snow fell on the 12th; thereafter sledges and toboggans languished unused in sheds or garages.
Springtime in Selsdon was relatively mild. One surprising statistic which seemed to have escaped the media was the near drought conditions. From the third week in March until the end of April, there was barely a splash of rain. This unseasonal fact was not welcomed by growers, gardeners and farmers. This absence of pluvial deposit was eventually ameliorated in May with about 4 inches.
Just one week in mid-June recorded a hot spell, the hottest day being the 22nd (33.8C (92.8F). Apart from a few days in early July, the remaining summer months were mild but rather wet and dull. It was the turn of barbecues to languish unused. The exceptionally hot summer in southern Europe doggedly refused to cross the English Channel.
A stormy period occurred in early December. My barometer recorded an unusual phenomenon -in about six hours on the 10th, the millibar pressure dropped from 1000 to 974. A sudden drop of this magnitude usually means very high winds such as those experienced in October 1987. On this occasion, whilst the wind was strong, it just generated a breezy fall of snow which did not hang around for long.
As this is being written, 2017 world-wide statistics have been published. These allege that the world has experienced the greatest heat on record. Maybe. But not in Selsdon.
Welcome News indeed about the new Selsdon Residents' Association website. Although the monthly Gazette is excellent in keeping our residents fully informed – our Association can now respond to general enquiries from outside our borders. Many thanks to our highly-esteemed editor, Heather, for her initiative.
A recent Croydon anniversary has received little comment. This is the notorious typhoid outbreak 80 years ago in December 1937. Prior to the widespread use of antibiotics, this caused widespread public health concern in the Borough. The source was quickly traced to the Metropolitan Water Board well in Featherbed Lane where an infected worker had contaminated the supply. Selsdon residents were spared the need to boil all water as their supply came from a different source.
They were some deaths and many men were unable to sire children as a result. I met one such once and found his story about contracting the disease quite harrowing.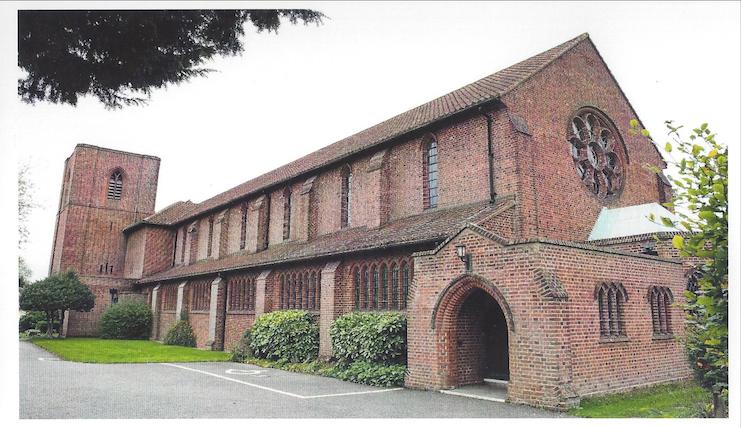 Last month's cover picture of the church of St. John the Divine (see above) has evoked a bout of nostalgia for my ancient friend, Sellis. He recalls being in the church choir during the war years. I find this hard to believe as he is unable to sing in tune. He assures me that in those far-off days, he was quite a decent boy treble. The Church was built in 1935 and Sellis recalls the bomb damage in October 1940 which destroyed the Chancel and Lady Chapel and also the adjoining Hall. The organ was also destroyed and from that time on a grand piano provided musical accompaniment. The Sunday services were compressed. After Matins at 11.00am, Evensong was held at 3.00pm because of blackout regulations.
Sellis recollects the first rector, the Rev. Cyril Wayneforth, who presided until his retirement some twenty years later. He was a gentle and pious priest, well-respected and regarded by his congregation and the community. Sellis says that there was one downside as far as the choirboys were concerned.
The Rev Cyril loved giving sermons. When he stepped into the pulpit, the congregation knew they were in for a long haul. Choirboys, alas, are not always the angelic cherubs as usually portrayed. To help pass the time, Sellis and his colleagues would circulate each other with written notes or exchange copies of the latest comics, smuggled in under surplices or hidden in music scores. Mr. Ford, the choirmaster, would sternly berate their behaviour in the vestry following the service.
"Happy days!" muses Sellis.
Selsdon's Christmas Lights have again prompted many appreciative comments, not least from some who do not live here but are passing through the shopping centre. The display was striking and artistic without being garish.
Many thanks to all those who have helped make this annual event happen and the volunteers who helped with the switch-on celebrations. Also to the traders and individual residents who gave financial contributions towards the project.
It was a pity that our local newspaper failed to include the Selsdon display in their borough-wide coverage. Perhaps next year?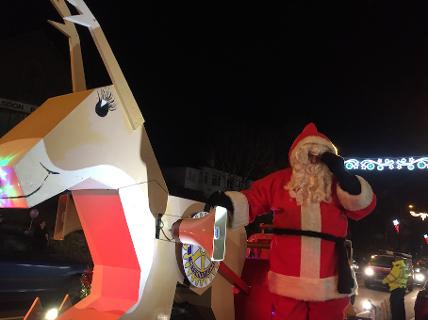 Weather or not? A review of Selsdon's weather in 2017 will be made in the February issue. A cursory glance at the statistics suggest a relatively mild winter for the third year running and a disappointing summer with no sustained hot and sunny periods. The sudden cold spell in December came somewhat as a shock when an inch of slush threw our airports and road traffic into a tizzy.
Ecclesiastical Retreats appear to have been popular in our area throughout the nineteenth century. Ted Frith's piece about Anthony Thorold, one time Bishop of Rochester, who lived in Selsdon House, is one example. (Presumably, that is how Thorold Close in Ashen Vale got its name?)
Then just down the road is the Addington Palace, a pastoral retreat for successive Archbishops of Canterbury, five of whom are remembered by a memorial in the Addington Village churchyard. It is interesting to note that this ancient church was until fairly recently still within the see of Canterbury before being transferred to Southwark.
Kingswood Way. Following the recent article detailing the history of this ancient thoroughfare, friend Sellis has offered some more recent history. Readers of this column will recognise that Sellis is getting a bit long in the tooth so that anything he calls 'recent' is really ancient and not modern.
Sellis recalls that the lodge house at the junction of Old Farleigh Road, (named Cosy Corner) was lived in by Mr. Jeal, then the local coal delivery man. He and his wife ran a small general store in the house. Sellis said that summer walks were always punctuated by calls to stock up on soft drinks, such as Tizer and ginger beer supplemented with ice cream.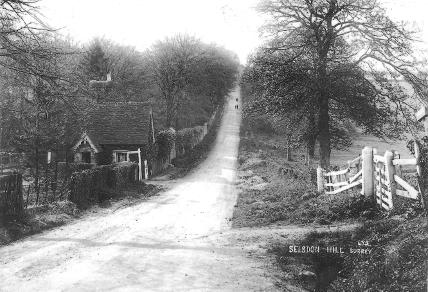 Sellis also recalls that most properties had very large gardens and many residents used them as hobby smallholdings with livestock and chickens. At the far end of Kingswood Way, near to Hamsey Green, was a small airfield, name of Gardners. Between the wars this was the base of Sir Alan Cobham's Flying Circus which performed at airfields displays across the country. Sellis recalls that during the war, the local ATC used this meadow to winch gliders into the air and give the cadets their first experience of flight. The site of the airfield is still to be clearly seen today.
I ask Sellis whether he had ever made a balloon flight from there? He thought not. I suggested that he could have supplied any amount of hot air for this purpose. Sellis harrumphs and stalks off but I still wish him a happy new year.
DECEMBER 2017
Changes are afoot in Selsdon. Comment has already been made about shop and bank closures and the growth of fast food outlets. We now learn of the imminent closure of Lorimers, the stationers. This store has been in Selsdon for some years and will be sorely missed by many residents.
We await the proposed enlargement of the Selsdon ward which will incorporate at least four other residents' representative groups. We have read the valedictory message in November from Councillor Sara Bashford. Sincere thanks to her for her valuable support to our community for the past eleven years.
Like Members of Parliament, much of a Councillor's casework is devoted to helping individual residents with their individual problems and often this work is out of sight. Attendance at the monthly surgeries will testify to a flow of folk needing practical help and advice which is carried out with quiet competence and complete confidentiality.
Friend Sellis wishes to give his own special message of good luck to Sara. He maintains that, with the greatest respect to her equally hard-working male colleagues, she is much better-looking!
Last month's scholarly article by Robert Fairbrother on the history of Kingswood Way was thought-provoking. The question of how our road system evolved was just one example. An uncle from California used to stay with us during the summer months. He was always intrigued by the narrow winding lanes when we motored through the English countryside. He would invariably comment; "Another cow-trail!" I guess that is what it was until the invading Roman Legions instituted their arrow-straight highway system.
This year has been notable for anniversaries. One which affected our locale was the Great Storm in October 1987. Most of us will have anecdotes about that event. Throughout the evening of Thursday,15th October it rained steadily but the air was still. My wife and I were looking forward to departing next morning for a long weekend in the Wye Valley near Tintern Abbey. There was nothing out of the ordinary anticipated in the weather forecast. I was awoken by high winds. By 4.00 a.m. the gusts sounded like express trains hurtling through stations. Grabbing a dressing gown, I ventured into the gardens, checking the condition of my greenhouses. All seemed to be unaffected. Returning indoors, all the lights failed. Shortly after returning to bed, a loud crash was heard. I returned to bed and buried myself into the duvet. By 6.30 a.m. the wind had abated and I looked out to the garden. The scene was unbelievable.
My sturdy 25 foot metal greenhouse looked as if a jumbo jet had landed on it. The 12 foot wooden greenhouse had disappeared completely, only matchwood remaining. The cause was plain. Some five roofs from an adjoining garage block weighing a ton or more had taken off like the house in the Wizard of Oz and landed on both structures. I telephoned our landlady in the Wye Valley and regretted that I had to cancel our trip because of "the hurricane". She was astonished. "Hurricane! What hurricane?" They had only suffered a gentle breeze overnight. I trailed around the wreckage which also included 200 feet of garden fence.
As we later found out, some millions or trees had been felled in the south-east. The well- loved gardens at Emmets near Ide Hill and Nymans near Handcross had been devastated. Selsdon Wood had suffered, Littleheath Woods a little less so. I shed a tear when viewing the flattened centuries-old beech trees at Toys Hill. But, over time, there has been an astonishing revelation of renewal. Returning to Toys Hill after five years, the entire area had rehabilitated. As the area had been cleared of shade, it had been supplanted by acres of silver birch and foxglove plants. I then learnt the value of the practice, common in Selsdon Wood, of not removing all felled trees but leaving some for colonisation by insects, fungi, etc. In time, Mother Nature repairs herself.
And Finally … Medical Anxiety is reported as being a current phenomenon. Apparently, because of the easy access to detailed information via computer or smartphone, many folk became paranoid and anxious, convinced that they have many of the medical ailments listed Sellis has pointed out to me that this is not a recent revelation.
The comedic masterpiece, Three Men in a Boat (Not Forgetting the Dog) written by Jerome K. Jerome in 1889 confirms his allegation. The author, J, is feeling out of sorts. He takes himself off to the British Museum Reading Room and immerses himself in a large medical dictionary. With mounting alarm, he discovers that he has the symptoms of every ailment listed with one exception – that of housemaids' knee. He feels much chagrin about this omission.
He details this formidable list of ailments he has contracted, some of which are very serious. The doctor listens intently and, after some thought gives him a prescription. The chemist seems puzzled and hands back the prescription. This reads: "I recommend daily gentle exercise followed by a full helping of porthouse steak together with a pint of porter. (And by the way, don't waste my time again!)"
Well said, Doc!
There was no Roundabout
article
in NOVEMBER 2017
OCTOBER 2017
Take-It-Away? So, planning approval has been given for the proposed take-away at the previous HSBC premises in the Selsdon shopping centre. It was a pity that only eight objections to the proposal were received by Croydon Council as many valid concerns have been raised in local discussions. These have included fears about the prospect of late night noise affecting nearby residents and a preponderance of litter. It would be useful to know if the Council have imposed any limitations on evening opening hours.
I must confess to having missed seeing the planning application being lodged. By the time the local concerns made the front page of the Croydon Advertiser it was too late. It may be helpful to marshal a few facts.
There are three categories of business in shopping centres: A1 - normal retail; A2 - financial & professional (e.g. banks, building societies, estate agents, etc); A3 - restaurants, cafes, takeaways, etc. Council policy under the approved development plan is that traditional retail frontages in district centres such as Selsdon should not be dominated by non-retail businesses. One fact that may have inhibited any local objections to this application is that the premises would remain as non-retail i.e. A2 to A3.
At the risk of breaking an arm, this case prompted me to dive into my dusty reticules to retrieve the report of the planning inquiry into the Croydon Development Plan proposals. This Plan took some 22 days and the result was a formidable tome of some 800 pages, published in 1996. Within this, the planning inspector endorsed the Council's pledge to support the permitted retail vitality of district centres. Furthermore, it was stipulated that other uses are not concentrated to detract from the established retail character of the area. Most importantly, the inspector decreed that the Council should not normally support proposals which result in less than 65% of units being within the retail A1 category. Do we know what a current survey in Selsdon will show?
It is surely not a question of just not wanting another take-away – it is a question of balance.
Is Selsdon about to lose its identity? As reported in the September councillors' notes, it now appears certain that Selsdon will be split into two wards, bordered by the Addington & Selsdon Park Roads and merged with other existing wards. This will have implications. This 'new' Selsdon will incorporate Forestdale, Monks Hill, Addington and Addington Village, all of which have their own residents' associations. Possible questions could include how do we co-ordinate and liaise so we speak with one voice? Will we need a federal-type structure to help answer this? Also, what are possible implications for the Selsdon Gazette? A starter for ten might be to convene a meeting-cum-workshop of all the affected associations in order to address these and other questions.
The transfer of Norfolk and Arundel Roads, Langley Oaks and Ridge Langley reflects the fact that many of those residents have always regarded themselves as more inclusive with Sanderstead. It has always been a puzzle why Moir Close, Courtlands Close and a tiny part of Arkwright Road have been part of the Selsdon ward.
Disappointment all-round at the reported low attendance at the FSW Picnic & Fun Day at Selsdon Wood in July, especially after all the preparatory hard work by volunteers. In the heady days when some forty thousand would attend the Forestry & Country Show over a weekend in September, I never ceased to be astonished. This was by the reaction of countless local residents who were amazed by the beauty of the 200-acre Shangri-La on their doorstep which they had never visited before. Some would drive many miles for a picnic "in the countryside", only to find such lengthy journeys were not necessary.
Roadworks Drive Us All Mad! And not just in Selsdon! The piece in the September councillors' notes on the gas main repairs in Addington Road reflected the widespread frustrations caused by ever increasing roadworks. The authorities involved appear to show a complete disregard to problems of congestion, many of which seem to be rooted in incompetence. An example of the gas main project was the inept phasing of the traffic lights controlling the single lane traffic flow at the crossroads. My own experience was of taking nearly an hour to travel two-thirds of a mile from Queenhill Road.
Many readers may have experienced the recent debacle on the A22. Travelling to Crawley Down in Sussex recently, one was diverted at the Caterham Bypass/Godstone junction away from the A22. Inexplicably, this diversion took us through Redhill and on to the A23. There was no information about access or a rationale as to the reasons for this time-consuming diversion or why the diversion signs northwards started at East Grinstead. An obvious option would have been to divert traffic on to the M25 leading to the M23.
Last month's charming article on the Cats' Protection League evoked memories. The late and lamented secretary of the SRA, Vera Edwards, was an ardent and hard-working supporter of this charity. Dame Vera, as she was called by me, was personally involved in many rescue missions for distressed moggies.
And Finally ... I have received a rare and unexpected compliment from friend Sellis. He says he likes my choice of words. I am overwhelmed by his approval. Sellis maintains that many writers use inappropriate descriptions. I ask him to give an example. "Mobile' phones," he says. I am puzzled as I do not see why that should be wrong. "Such telephones are 'portable' and not 'mobile'!" he avers. I tell him not to be so pedantic.
SEPTEMBER 2017
Reflections. Friend Sellis has just come in and peeped over my shoulder. He asks why am I still staring at this sheet of blank paper after some thirty minutes. He alleges that I am trying to meet the editor's deadline for copy but I am suffering from 'Writers' Block'. His allegation makes me cross. I try to explain that I am simply trying to marshal my thoughts. Sellis makes a stupid comment about noisy marshalling yards. He can be most insufferable at times.
Anyway, by the time this issue of the Gazette thumps through your letterbox, the summer hols will be a distant memory, daylight hours will be shortening and the school run will again dominate the weekday routine.
During the summer, I lunched with friends on holiday from Australia. They noted how much the Selsdon shopping centre had changed since their last visit a decade or so ago. We tend not to notice gradual changes. Given a longer perspective, these accumulated changes may be more surprising. To name a few, Selsdon has recently lost its Woolworths (Woolies) store, a bakery and two major banks. The sub-post office is also changing location after some eighty years. The retail scene is quickly changing, possibly hastened by on-line shopping and banking.
Over the years, Selsdon has been the home of many folk of repute. One such was detailed in Janet Sharp's article in July which recounted Wendy Soulsby's memories. This was Albert Applegate (see photo) who lived in Brent Road. Albert was a highly skilled organ builder and repairer whose services were always in demand. My father was among his many friends and much enjoyed watching him at work and admiring his skills and dedication to his job in hand.
This recollection prompted me to wonder about other residents of note who lived in Selsdon. Arguably, the most notable was the late Sir Christopher Woodhead, educationalist and past chairman of Ofsted, the schools' inspectorate. He spent his young years living in Birdwood Close and attended Selsdon Primary School during the fifties. Harry Weetman, the Ryder Cup golfer was the professional at Selsdon Park Hotel and lived on a smallholding in Yew Tree Way (on the Forestdale estate). The comedian, Derek Roy, hosted the Variety Bandbox radio show in the forties and fifties and lived in Upper Selsdon Road. He worked with Frankie Howerd, Jimmy Edwards and Tony Hancock. The prodigious playwright, Denis Constanduros, lived in Old Farleigh Road. He wrote a stream of plays which were broadcast on the radio.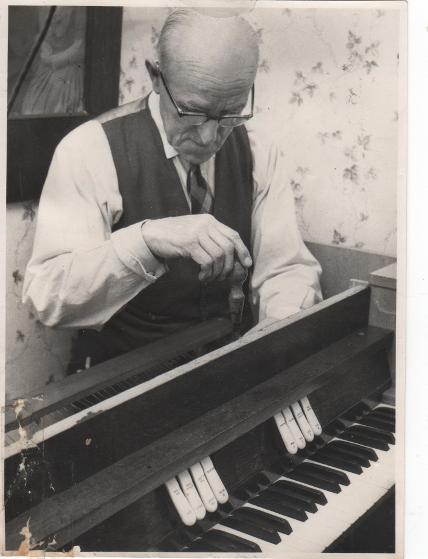 In this list, we should not forget some of the past SRA chairmen. Harold Nichols, whose father was the very first chairman of the Association, became a lawyer and served as the Registrar of the Law Courts in London. Douglas Thornton, served as a councillor representing Selsdon on the Coulsdon & Purley District Council and achieved his 100th birthday with all his faculties intact. Willy Watkins also achieved centenarian status. He was an ardent campaigner for Selsdon residents. Among his many successes was arranging for Selsdon to have its own Food Office during the war years. Applications for ration books had previously involved what was then a tortuous journey to Purley via central Croydon.
I used to have lunch with Willy at his care home in rural Oxfordshire each year and listened with fascination to his recount of memories. He was an ardent supporter of the Co-op movement and once I found him absorbed in the account of that year's international symposium held in Japan. He was aged 102 at that time.
Ted Frith may be able to tell us more about other Selsdon residents of note.
And Finally... although it is far too early to review Selsdon's weather, it is apparent that August has reverted to being the most unreliable of the summer months. Following a five-day hot spell in early July, a procession of low pressure ensured a sustained period of unsettled and capricious weather. As ever, Mother Nature ensured a balance following a very dry and somewhat arid Springtime (a fact which had escaped most of our national media). In the 24-hour period covering 9th/10th August, some 63 mm of rain (two and a half inches) cascaded into my rain gauge. At least, we were not subjected to the widespread forest fires and raging high temperatures experienced in southern Europe.
Sellis says he welcomes our more temperate climate. If only this would cool his occasional irascibility.

Editor's Note – Coincidentally, wearing my other hat as chair of the Friends of Selsdon Wood, I received a message last month from Margaret Forbes-Hamilton who told us about a local 18th Century bryologist, James Dickson. We understand that he lived in Croydon and recorded and illustrated many of the mosses in our area. He is buried at All Saints in Sanderstead. We have set up a page on the FSW website http://www.friendsofselsdonwood.co.uk covering all the information we have but if anyone knows anything further about James Dickson or has access to any of his papers I would love to hear from you.
JULY 2017
Last month's front cover of two contrasting postboxes in Old Farleigh Road, old and new, was pertinent. The relevance came when we later read that our post office is to move from its long-established site in the Broadway to Tudor Library.
The sub post office had been at the Broadway location for more than eighty years, combining the Royal Mail service with that of a haberdashery. Many will recall R. & Mrs. Buckingham who ran it for very many years until their retirement.
I believe that the owners of Tudor Library, Mr. & Mrs. Patel, ran a post office before they moved to Selsdon some thirty years ago. The service should be in good hands.
The century old photograph of the cottages in Addington Road in the June issue was fascinating. Equally so was the extraordinary photograph supplied by June Carmichael of the back of the Sanctuary Tea Rooms shot from Foxearth Road. This portrayed a scene of rural tranquillity. As will be seen from the first picture, Addington Road was but a small country lane. In the late twenties, before the road was widened as we know it today, the formidable owner of the Tea Rooms, Mrs. Tulett, used to serve summertime teas on her front lawn. This is difficult to imagine today. The Tea Rooms today are owned by the Village Club. It is to the Club's credit that they have maintained the premises' original and attractive facade.
June Carmichael merits a further credit for her photo of Foxearth Road, circa 1930, published in the May Gazette. This showed a wide, car free boulevard with a solitary pedestrian ambling along in the middle of the road. While in nostalgic mode, I possess a 1955 photo of the shopping centre, taken from the crossroads in midsummer during a working day. There is not a parked car in sight
The appeal in the last issue by Contact for volunteer drivers is noted. This highlights the fact that, without a dedicated and active team of volunteers, many of our community organisations could not exist. Not only Contact but the Selsdon Centre for the Retired would only be shadows, as well as our conservation societies, church and social groups et al. We can include our own organisation. The Christmas lights would not happen and the Gazette would not operate without the scores of volunteers who trudge round each month in all weathers. Being responsible for a small team of these hardy folk, I am personally grateful to those who cover additional rounds when a distributor goes AWOL.
Following the recent and traumatic events in London and elsewhere, the national media always seem surprised when folk volunteer and come together in spontaneity to help others in dire need. It's just what communities and people do.
Friend Sellis is showing an interest in crosswords. I found him attempting the Cryptic one in the Gazette. I find his interest surprising as his intellectual prowess is rather limited. Confronted by the clue: Religious woman: 3 letters, beginning and ending with 'n', Sellis will nibble his pencil, whistle through his teeth and emit a little grunt of satisfaction when he inserts the missing vowel.
He asks me if I know the name of the USA Gem State. I surmise it may be Idaho. Sellis ponders at this. He says it is lucky they did not name it the Christmas State.
"Why?" I ask.
Sellis chortles. "Because it would be the Ida-ho-ho-ho State!"
I tell him that is not funny as he hurries out of range.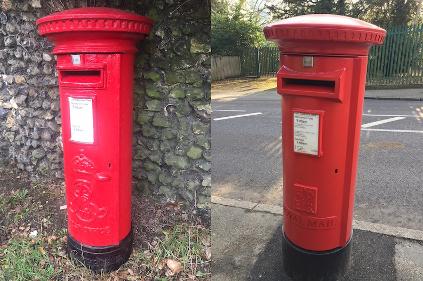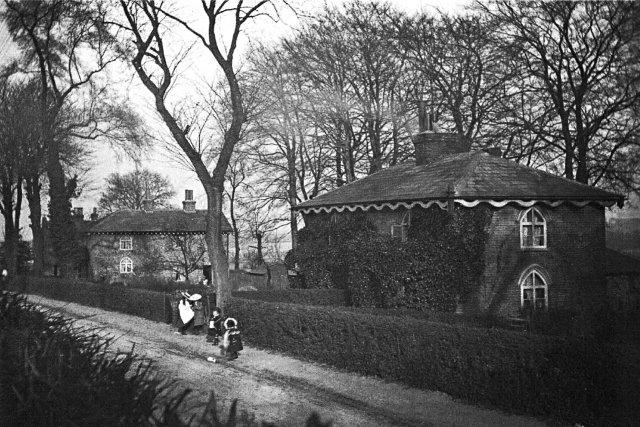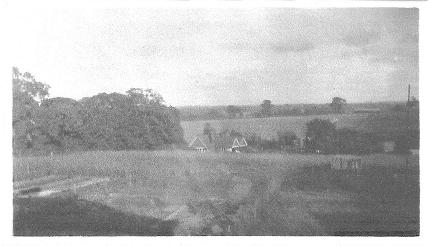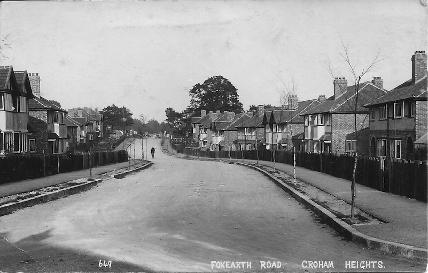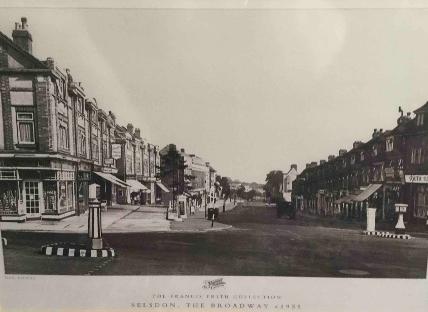 Selsdon The Broadway c1955 from the Francis Frith Collection
JUNE 2017
A striking picture indeed was the local bluebell display this springtime. As evidenced by the cover photograph in the April Gazette of Littleheath Woods, that scene was replicated many times for visitors to the Selsdon Wood and Kingswood.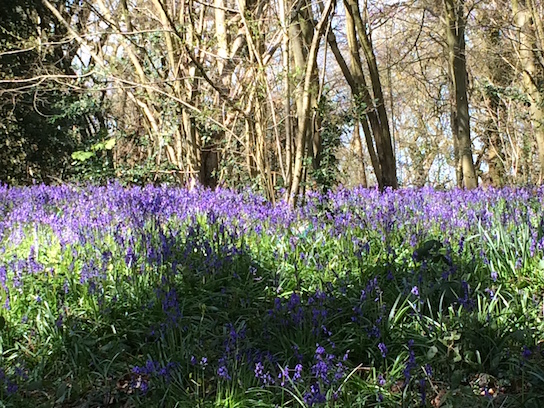 Bluebells by Ian Leggatt taken 2016 on Foxearth Path.
It is worth bearing in mind that bluebells are evidence of ancient woodlands as it takes many generations for them to establish in such profusion. As such, they are vulnerable and averse to being trampled over. It is wise to keep to well-trodden footpaths whilst viewing the enchanting blue haze effect.
Selsdon is very fortunate to have such protected ancient woodlands. We owe a debt to the first residents in the early twenties who quickly realised that their new community had been built on very picturesque land on the rising slope of the North Downs. A vigorous and ultimately successful campaign was fought to preserve the 60 acre Littleheath Woods. (Sorry – I don't do hectares.)
Other benefactors appeared on the scene. Thanks are due to the Surrey Garden Village Trust who donated the first thirty acres which became part of the Selsdon Wood (known originally as the Bird Sanctuary) and which encouraged others including the National Trust to establish the 200 acre entity. (Editor's note: for full details see the History page of the FSW website www.friendsofselsdonwood.co.uk.)
Talking of history - Ted Frith's article on Reevewicks and Beadlewicks in the May issue was fascinating. Friend Sellis said that it sounded like a firm of solicitors from Charles Dickens Pickwick Papers.
Whilst still dwelling on the subject of woodland and countryside, perhaps a future article of Nature Notes could respond to the following question: Whatever has happened to the Tiggywinkle families? A few years back, our gardens had a full quota of hedgehogs who snuffled noisily in puddles around the garden. They were friendly and welcome visitors, albeit a little shy. Perhaps we have intruded too much into their natural habitat?
It took the media a long time to acknowledge the fact that our part of the country was suffering a severe drought. Following below average rainfall during the winter months, from 25 March there were 33 consecutive days without any rain apart from a splash of 1mm on, appropriately, 1 April. The weather forecasters kept apologising for the lack of sunshine but praised the fact that there would be no rain. Farmers and growers, let alone gardeners, gnashed their teeth at the weather prophets' assumption that all the population was only concerned about the ability to get the barbecues going.
Mother Nature, as always, is balancing the stats. As I write in mid-May, the last three days have seen about 2.5 inches splash down. The growers and gardeners are happy although the forecasters keep getting the expected timing of the downpours wrong. But let us be thankful for small mercies. It's now good growing weather!
MAY 2017
We are due for some significant changes in Croydon's Council ward boundaries, as notified in last month's Council Notes and lucidly amplified at the AGM by Councillor Sara Bashford. Being a bear of little brain, I freely confess to being unable to get my head around all the proposed changes. Perhaps for duffers like myself, an illustrated map displayed in our Library would be helpful.
Selsdon has always been fortunate in having a fairly distinct boundary, unlike some areas such as Croham. With the exception of some of our border with Sanderstead as mentioned in the April Gazette, this fact has enabled Selsdon to retain a distinct identity. What is clear from these proposed changes is that this distinction will be diffused by the addition of Forestdale, Monks Hill, Addington and Addington Village to the Selsdon ward boundaries This enlargement will still be significant despite the movement of Norfolk/Arundel Avenues and Ridge Langley to the new Sanderstead ward.
Should these proposals be ratified, they will have an impact on our residents' association and perhaps even the Selsdon Gazette. Bearing in mind that Addington, Addington Village, Forestdale and Monks Hill have their own resident groups, an early idea is that we may need a more federated structure. Perhaps it is not too early to give this some thought.
Change is certainly in the air, not least in our shopping centre. The loss of the HSBC Bank and the Yorkshire Building Society are keenly felt by many individuals and local traders. This trend is widespread and Warlingham has also recently lost its National Provincial Bank after many years of tenure. Sanderstead has also lost its Barclays Bank in the Limpsfield Road.
It is also evident that many changes can be seen in the shop fronts of Selsdon. It may be of interest to summarise these changes sometime.
Drama Unlimited. Once again our diligent historian, Ted Frith has revealed some more interesting facts about the Selsdon Players during the war years. Under the inspirational leadership and commitment of Len Jones, this drama group played a vital role in helping boost morale. Readers of this column will be aware that my grumpy friend, Sellis, is a bit long in the tooth and remembers some of those mentioned in Ted's write-up. He recalls Mrs. Tulet who let the group rehearse in the then Sanctuary Tea Rooms. (This was presumably after St. John's church hall was destroyed in the blitz of October 1940.) Sellis recalls that Mrs.Tulet was of French nationality with a forceful personality. He also remembers her being a superb cook. He is looking forward to reading some further recollections of the post-war period which involved the talents of Doris Cooper and Floss Mosely to name but two out of many with thespian talents.
Plaudits are due to all those who contribute to the Selsdon Gazette and not least to our editor, Heather, who consolidates all the copy. Recent issues have included a wider range of interest than hitherto and many local resident groups are quite envious in our ability to produce such a monthly quality magazine.
On the downside, there are some residents, few in number, who refuse to accept the free monthly delivery of the Selsdon Gazette, alleging that they do not wish to receive "junk mail". Dear Sir/Madam; If you are one of these, one would not deny your right to refuse to accept delivery. However, I would respectfully suggest that the Selsdon Gazette is not junk mail. It aims to inform and entertain on all aspects of our community, of which you are a part and the resources of which you may well become a grateful user in the future.
End of sermon.
And Finally... Croydon local newspaper recently ran an article which highlighted the ten most notorious traffic black spots in the town. (Sellis was disappointed that the Selsdon crossroads failed to feature with its frequent Roadwork signs, single-line traffic controls but no evidence of at least one workman leaning on his shovel.)
Top of the pile was the notorious Fiveways junction at Purley Way, Stafford Road and Denning Avenue. Sellis recalls the dark ages when pea-soup winter fogs were frequent. This was when inspectors walked ahead of their buses with flaring flaming firebrands aloft to lead stressed drivers. Sellis recalls when driving home from Stafford Road at such times, he often found himself in the middle of that junction completely stranded whilst looking unsuccessfully for the entrance to Denning Avenue. Once, he found himself driving towards Waddon railway station on the wrong side of Stafford Road. When traffic is heavy and visibility bad in darkness and rain, today, it is not unknown to be jam packed in the midst of stationary vehicles all facing in different directions
A close second was the equally infamous Purley Cross. One can only feel pity for those drivers who are unfamiliar with the layout of this junction as they frantically strive to discover which lane they should be in and their correct direction of travel.
Some years ago, the late Councillor Bob Coatman, when chairing the Croydon Council transport committee, had a bright idea; this was to build a flyover to cross from the Godstone Road to the Banstead Road, leading to Foxley Lane. Understandably, this idea was rejected as some large houses would have had to be demolished. In retrospect, perhaps it was not such a bad idea.
Third in line was the multi-turnabout junction near the Fairfield Halls, at Park Lane, Barclay Road and the Flyover. Again, fine if one is familiar with the layout but send up a prayer for those new to the area.
A surprising omission from the list was the Purley Way Lombank roundabout on the Purley Way where one often has to risk life and limb to access safely. The final choice was one outside the Croydon borough but one which affects many drivers en route to Croydon. This is the narrow and precipitous Succomb's Hill at Warlingham. Sellis agrees, having once lost a wing mirror there. With his predilection for Spoonerisms, Sellis insists it was a "White Man Van" which careered down the hill in the middle of the road.
Sellis volunteers a solution to these traffic problems. Surprise me, I ask. "Take a bus!" he says.
He may well have a point.
APRIL 2017
So our Highly Esteemed President of the SRA, Dick Adamson, is stepping down as chief beancounter for the Selsdon Gazette. This concludes many years of dedicated service to our community which began with his election to the Executive Committee some fifty years ago.
With his innate boundless energy, Dick always threw himself into the thick of any activity or tasks. His commitment was soon recognised by his being made vice-chairman and then chairman for many years. His energetic contribution was not confined to the Association, as he also acted as treasurer to the Croydon Bowls Club and then had a high involvement with the Little League Football Club project. In the 90's he was elected as a councillor for the Selsdon ward which he helped represent for some years.
As an example of his energy and commitment to our locale, I recall the period when Sainsbury's were building their premises on the old car park. He set-up a daily review meeting with the site construction manager. This established a fruitful and positive relationship whereby potential problems, which could adversely affect our residents, were quickly dealt with.
I hope that a more fulsome tribute to Dick's contribution to Selsdon will be made in due course. In the meantime may I, on behalf of us denizens of Selsdon, convey our sincere thanks to him for his dedication to our community throughout the years. Also, our best wishes for a long and contented retirement for him and his wife, Joy. It should also be noted that Joy has also achieved success and recognition in becoming a distinguished player at the Croydon Bowls Club and by representing County on occasions.
However, it is difficult to imagine Dick Adamson just nodding off in his armchair all day. He will, in any event, still be seen around in his role as our president. After all, Dick does not have a retiring nature.
Regarding the Warlingham District Plan, it is reassuring to learn from the Councillors' Notes that our member of Parliament is aware of our concerns about the proposals. Should these be implemented in full, they will result in an exponential increase in dwellings at Warlingham, many of which would be built on the Green Belt. Such an increase would severely increase traffic through Selsdon. Whilst Croydon Council may not have any direct influence on the proposals, we do have a right to articulate our concerns as nearby residents who could be affected by such large scale development.
n recent weeks, there has been significant ground clearance and felling of trees on vacant land bordered by the Greenhill Lane footpath, Alexandra Road and Chelsham Road (opposite the Greenlawns cemetery). I understand that this area is scheduled Green Belt and that no formal planning application has yet been made
Friend Sellis is in provocative mood. He alleges that I have an obsession about the weather. His assertion I strongly resent and l I tell him it is just an interest rather than a fixation. He looks unimpressed and suggests that I went on a bit last month. I protest that was just an annual review of Selsdon's climatological record.
"There you go again!", he retorts.
"Bet you can't resist mentioning storm 'Doris' on 23rd February?" he adds. Somewhat loftily, I tell him that I have absolutely no intention whatever of mentioning Doris.
"Not even a teeny-weeny mention?" he enquires.
"Absolutely none at all!"
Sellis notes that 'Doris Day' turned out to be quite breezy. As he moves towards the door, he attempts to sing. (He is painfully tone deaf.)
"Whatever the weather. will, be; Que Sera, Sera!"
I throw a book at him. It misses.
MARCH 2017
Weather or Not. As the daylight hours are thankfully increasing, we all look to waving goodbye to the gloom and chilly days. Most of us look forward to discarding our layers and soaking-up sun's golden rays. We will hope not to be disappointed. Let us have a butchers at last year's weather in our neck of the woods.
January and February had been preceded by a series of violent storms from the Atlantic Ocean. In November and December 2015 we experienced a number of high winds coupled with driving rain. Although unpleasant, it was not to be compared with the disastrous effect on those living in the North-West and North-East of the country who had to survive severe widespread flooding and storm damage.
One effect on our climate was that we again had a relatively mild winter whereby hard frosts and heavy snow were absent. We have had many years of successive mild winters. For instance, January clocked up some five days when frost appeared, compared with nineteen consecutive days in 2013, even though that year was not considered to have had an unduly hard winter
Springtime became delayed due to a very chilly March which had the most frosty days. April was dismal when rain fell on 15 days and May continued the trend. Worse was to come. June, usually the sunniest month, was dismal and very wet with more than 140mm falling on saturated gardens. July had no sustained or lengthy hot spells. Then the scene changed and the weather became topsy-turvy.
It is a fact that the peak holiday month of August is usually the most unreliable in our summer calendar. Not so in 2016. Although there were no sustained periods of hot weather, the months of August, September and October were pleasantly warm and rainfall was almost non-existent. The first frosts did not occur until the last few days in November and December respectively. This suggests yet another relatively mild winter. We shall see.
Mother Nature usually evens up the statistics anyway. Total rainfall in Selsdon was about 650mm (26 inches). Total sunshine hours in London were about 1350 hours. Both statistics are par for the course.
Perhaps one year, we may undergo similar winters to 1940, 1947, 1962/3, 1979; or baking summers like 1947, 1959 and 1976. Wait and see.
My grumpy friend, Sellis has just harrumphed in, full of grumbles and moans of discontent as usual. I ask what has upset him now?
This time it is traffic and the proposal to include Selsdon in a 20-mph speed limit zone. Sellis maintains that he would welcome to average some ten miles an hour when travelling through Selsdon during the day at the moment. He gives an example of taking half an hour to travel the half-mile from Queenhill Road to Selsdon School. This is due to road works at the cross roads which has single lanes with slowly phased traffic lights.
"And moreover," he concludes, "although it is signed as such, there are NO roadworks actually taking place – there is not even a bloke leaning on his shovel! Bah!"
I pour him a large sherry. He perks up a bit. He says he likes the "Monster" of Baker Boy Lane featured on last month's cover. I agree, as he does not look at all menacing. Perhaps he first appeared after the Great Hurricane of October 1987? Answers on the usual postcard, please.
FEBRUARY 2017
Editor's Note - Sellis has just advised me that 'Carousel has been laid low in his sick bed and regrets that there will be no article this month. Sellis adds that, as acting nursemaid, he finds Carousel to be a difficult patient. On the telephone, I hear a muffled complaint in the background about pots and kettles.
JANUARY 2017
At Last...... a planning application has been lodged to develop the site of the erstwhile Selsdon Garage. This site has been a blot on Selsdon's landscape for far too long. The proposal is for retail premises on the ground and lower ground floors with twenty-five flats above. We must hope that this would not be an over-development and that parking provision will be adequate. We await our councillors' comments in due course.
Road repairs are essential, of course and mostly we accept the bouts of inconvenience which can result. But as mentioned last month, some the scheduling is difficult to understand, particularly when anticipated work does not take place but barriers are in place. The recent repair work in Selsdon Park Road was undertaken noisily throughout the night until the small hours, plaguing the sleep of residents in nearby Addington Road. (Sellis did complain about that, as well!)
Matters Local to Selsdon should always be our prime concern. It behoves us to also be very aware of proposals adjoining our boundary which could affect us. A potentially significant one is that of developing Warlingham as proposed by the Tandridge District Plan. This aims to build an additional 9400 houses over the next twenty years, mostly on existing Green Belt sites. This proposal would more than double the size of Warlingham, resulting in severe increased traffic congestion through Sanderstead and across Farleigh Common. The significant loss of Green Belt will be a great loss to the environment.
Despite the development of the Hospital site in recent years, Warlingham has retained a pleasant rurality. The Green still portrays its village aspect overseen by a polyglot selection of small shops. Understandably, there is widespread opposition by local residents to these proposals contained in a 450-page document with numerous appendices and a petition has been submitted to Tandridge D.C. Surprisingly, it would seem that support for these concerns from the locally elected representatives and the Member of Parliament appear to be somewhat muted, to say the least. Perhaps our own councillors may wish to pen their own views about these proposals on our border?
Once again, the meticulous and painstaking research by local historian, Ted Frith, reveals some interesting facts on Selsdon's past. His article last month on the Selsdon Gazette's evolution I found to be fascinating. Ted rightly records how the Gazette was close to foundering in the 70's. Thanks to Pam Moore aided by Sid Ringham, both lately lamented, the journal was saved. Pam started her 19 year tenure as editor in memory of her father who had recently died. She felt the need to contribute something back to the community, of which the Medrow family were Selsdon stalwarts. Most people knew Sid and he seemed to know everybody, not least because he was always on hand to help the aged with their plumbing problems. He was also a leading member of the British Legion and annual Poppy organiser. After about a year of footslogging and canvassing his numerous business contacts, Sid secured the necessary advertising revenue. Pam, with the assistance of her policeman husband, John, brought the Gazette into the computer age when the technology was still new and developing. The Residents' Association no longer had to make significant financial support to the Gazette each year.
My grumpy friend, Sellis, found that the list of past advertisers evoked memories. He recalls the Rensark Poultry Farm in Selsdon Vale as he knew the owner, Max Krasner. He points out that Rensark was the owner's name in reverse. I tell Sellis that not a lot of people knew that.
Selsdon usually records a low crime rate, often being the best of all Croydon wards. Recent scuttlebutt surmises that the local crime rate may have risen recently. When the latest statistics are released, it will be interesting to see whether they confirm or deny this to be the case.
And Finally..... the Christmas Lights display along our shopping centre was again pleasing and cheered the gloomy and dark days. Appreciative comments were received from all over, the display being elegant and graceful.
Sellis comments that, however, Ebenezer Scrooge is still alive and well. He refers to the fact that the police were unable to assist Father Christmas's triumphal entry and procession along the shopping centre. So after twenty-five years of the police enabling him to u-turn at the crossroads and delaying traffic movement for just a few minutes, the many children present were denied their annual pleasure of cheering the progress of the white-whiskered old boy. Sellis says that it was not the same for the old chap to make his entrance by tottering out of the Village Club.
Furthermore, complains Sellis, his shame was compounded by the ignominious cover photograph last month of Santa Claus clearly being arrested and frog-marched away by two cheery police officers, to be charged, no doubt, for loitering with intent in the High Street? Shame!
Who's for a happy New Year, then?